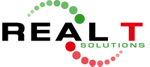 2330 Paseo Del Prado
Suite C202
Las Vegas, NV 89102

Phone:(702) 737-7325
Fax:(702) 737-7329
Welcome
REAL T Solutions is a technology-driven nationwide mortgage and banking services company. With our extensive network of relationships, we can execute any real estate related service in every county of all fifty states.
All of our client relationships have been founded in our ability to solve problems that no one else could or would do. Here at Real T Solutions, we embrace those challenges.

Services

Technology
Real T Solutions believes in efficiency through technology. We have developed proprietary web based software that can seamlessly integrate with any web platform. Through our portal you can order products, view status and notes, and receive the finished product.
Read More »